By Nathan Alderman, former J-Lab Online Editor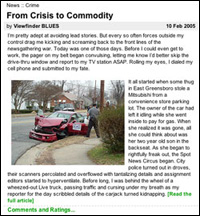 The bloggers of Greensboro, N.C., talked about bringing their voices together in a single site. With Greensboro101.com, Roch Smith Jr. made it happen.
Greensboro101.com is an early attempt to build a community news site around a town's existing blogger corps. The site aggregates content from bloggers – 44 as of February 2005 – who are already writing about their own passions, from furniture to sports to media criticism. Their collective postings deliver a more personal and sometimes more probing view of Greensboro news and events.
Ironically, Greensboro101.com launched shortly before the town's daily, The News & Record, announced a sweeping initiative to open its coverage to more citizen participation.
Blogging is "fundamentally an opportunity to bring democracy to media," said Smith, a Web designer and former Greensboro mayoral candidate. He found himself "at odds" with local media over their news coverage. "I was frustrated that there was little opportunity beyond the 200-word, once-a-month letter to the editor to present an opposing view and no opportunity to correct or counter the reporting of TV," Smith said. "It was simply incredible, the amount of valid information and opinion that was not making it into the mainstream press."
Smith launched Greensboro101.com in December 2004 after several weeks of testing. With local bloggers' permission, the site gathers posts from their blogs via automatic RSS feeds. The first few paragraphs of a post appear on Greensboro101.com, followed by a link to the original site. Smith hopes this will encourage Greensboro101.com's readers to visit the individual blogs that feed it.
Readers are also invited to post articles and opinions directly to the site. Greensboro101.com's guidelines, inspired by those of similar community media sites, forbid obscenity, threats, advertising or posts that "fail to even resemble news or commentary."
A four-member citizen editorial board, initially chosen by Smith from a pool of interested volunteers, monitors and approves site content through Greensboro101.com's content management system. Smith said he and the editors try to avoid censoring users' submissions.
Contributors can post written articles, audio and video files, or call in a comment by phone. Smith said he'd like to purchase audio and video equipment that citizens could borrow to cover local events. Rather than dictate to his audience how they should participate in citizen journalism, Smith said he wants to give contributors as many tools as possible and see what results.
Smith and the editors collaborate online daily to choose articles for the front page and quick links for the site's "newswire" feature. Smith lists four main criteria for worthy front-page posts:
Local topics / local appeal
Well-written
Interesting
Timely
Site visitors can balance the editors' judgments by rating articles they read. The higher readers rate an article, the more prominently it will appear on the site.
Ed Cone is both a columnist for the News & Record and a blogger whose posts appear on Greensboro101.com. "I get a sense that [the editors] want to be fair to all but not without opinion themselves," he said, "which is tricky, but they seem to be pulling it off."
Smith said he has tried to make the site "as democratic as possible, with the notion that the good ideas, the strong arguments, will survive, and that all we need to do is talk about them, unfettered and unfiltered, to improve our understanding."
Front-page articles commonly include community announcements, but also a variety of more serious news and commentary pieces, such as critiques of local news coverage, opinions on the local economy and coverage of city council controversies.
Though Greensboro101.com and the News & Record have no formal content-sharing agreement, posts from the paper's 10 bloggers, including editor John Robinson, appear in Greensboro101.com's lineup.
"Part of the flexibility and usefulness of the Web is its ability to link," Robinson said. "I suppose we benefit if it drives users to read us who otherwise might not." He welcomes Greensboro101.com as another outlet for community news. "We'll cheer each other on," he said, "and when one of us stumbles, the other will help pick him up."
Smith and Robinson have discussed Greensboro101.com's use of News & Record content. "The consensus opinion, right or wrong, seems to be that if you publish an RSS feed, you're asking for your content to be syndicated," Smith said.
The site began as "a technical challenge," Smith said. In fall 2004, local bloggers like Cone began advocating for a site that would gather posts from Greensboro's many blogs in one spot. Smith decided to see if he could make it happen. "It turned out to be more complicated than I imagined," he said. "But once I started, I was determined not to give up."
Smith eventually chose dadaIMC, an open-source content management system designed for independent media, as his site's foundation.
Smith has worked hard to launch and improve the site, said Billy Jones, a local blogger and Greensboro101.com participant. "Every time we complain, even over the slightest thing, Roch bends over backwards to make it better," Jones said. "He's gone so far as to do a couple of total redesigns based on the comments of a few."
As of February 2005, 31 community users had registered with Smith's site, though registration isn't required for users to post stories or comments. Traffic to the site is growing. In just the first five days of February, Greensboro101.com tallied 5,294 visits from 1,409 visitors, compared to 10,625 visits from 2,518 visitors for all of December 2004.
"Attracting more readers is a top priority," Smith said. He and the board must decide whether Greensboro101.com will become a commercial or nonprofit organization, which in turn will determine a strategy for marketing, expansion and revenue. The board must also decide how it will select future members, and whether the larger community will participate in the process.
"I don't think we'll see the day when the lead story on the evening news or the front page story of the local paper will be from a citizen journalist," Smith said. "If we ever do, it will be because independent citizens media proves itself credible."
Smith believes Greensboro101.com's strength lies in its ability to let ordinary citizens' voices stand on equal footing with those of traditional news outlets. "Whether through in-the-field reporting, coordinating a 'blog swarm' (multiple bloggers devoting their attention to a single topic) or more original commentary," he said, "I think Greensboro101.com has the potential to become more of a primary news source."